The Map of Exactitude
Date: 2011
M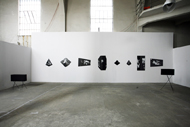 edium Cameras: Card, Paint, Wood, apertures. 
Medium Photographs: Black and White positive photographic prints. 
Description: "The city does not consist of this, but of relationships between the measurements of its space and the events of its past:……….."
Invisible Cities, Italo Calvino
The Map of Exactitude 2011-ongoing, references Jorge Luis Borges short text On Exactitude in Science. Where an Empire attaining such perfection
creates a mile to mile scale map of itself, "following generations, who were not so fond of the study of Cartography as there forbears had been," the
map falls in to "Tattered Ruins" "inhabited by Animals and Beggars"
The Map of Exactitude 2011-ongoin, is an attempt at mapping the artist studio. A series of cameras, both pinhole and slit cameras have been constructed,
the scale and form of the cameras is dictated by the architecture of the space on a 1:1 scale. The apertures of the camera dictated by the markings and traces left on/in the space by its history.
A series of abstract black and white photographic prints have been made in the cameras, the light exposed directly on to the paper, which is often folded, and cut in order to fit the form of the camera.
For Photomonth, Krakow Plantinga will be showing the "The Map of Exactitude - Corner works". The 1;1 scale cameras defined by the corners of the studio and accompanying Photographic works will be presented.
"we now use the country itself, as its own map, and I assure you it does nearly as well."
Sylvie and Bruno Concluded, Lewis Carroll
The Map of Exactitude, Alias, Photo-month, Krakow, Poland. Curated by Adam Broomberg and Oliver Chanarin. 
Images 1  2  3  4  5  6  7  8  9  10  11  12