QUINTET: (oeuf, verre, lampe, mont golfiere, poisson.)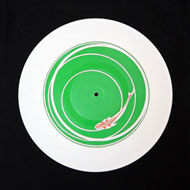 Date: 2006
Size: 125cm x 58cm x 31cm 
Medium: Found Vinyl records, laser cut and collaged together 

Description: Second hand color vinyl records have be laser cut using the images taken from Duchamps rotaraliefs of the 1920's, the five object base images were uses (lamp, martini glass, light bulb, hot air balloon, fish). The vinyl records have been collaged back together and then played on record players at 33rpm – the same speed as Duchamp's originals were made to rotate in order to created the illusion of the third dimension.
Installation view, White Elephant, Laura Bartlett Gallery. Images: 1 2 3  
                   Quintet: Oeuf, Verre, Lampe, Mont Golfiere, Poisson.  Images: 1  2  3  4 5