"98m" (the hight of the Campanelie, San Marco, Venice)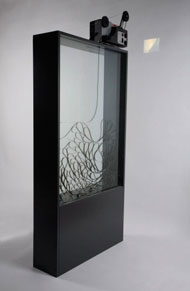 Date: 2005
Size: 145 x 21.4 x 73.3 cm,
Medium: Super 8 mm film, projector, wood, glass.
Description: A duration of 20 minutes of Super 8 mm film plays on a loop. Footage that pans from the base of the Campanile in Venice to the top is projected in postcard size onto the wall. The film falls and loops within a glass structure, visible to the viewer. McAlpine has used 98 metres of Super 8 mm film to film the 98 metre high structure of the Campanile.
"98m" (the hight of the Campanelie, San Marc, Venice. in Super 8mm film) Installation Images Would't a Title Just Make It Worse, Bristol.  Images: 1 2 3 4